Webcam Alkmaar, Netherlands: View over Alkmaar
It's 15:23 in Alkmaar, Netherlands right now.
---
View over Alkmaar
Alkmaar is a city in the province of North Holland in the Netherlands. Alkmaar has a historic center with 399 national monuments and 700 city monuments. The city is known as 'the cheese city'. A traditional cheese market takes place every week from the beginning of April to the end of September. A resident of Alkmaar is called an Alkmaarder, but is popularly known as a 'cheese head'.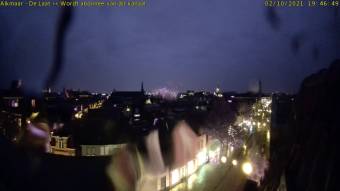 Alkmaar 15 hours ago
This Webcam is operated by:
Webcamegmond.nl
-
Visit Source
Webcams nearby:
Surroundings Map: