Webcam Neustift, Austria: Panoramabahn Elfer
It's 10:22 in Neustift, Austria right now.
---
Panoramabahn Elfer
A live view from the summit station of the Panoramabahn Elfer at Neustift.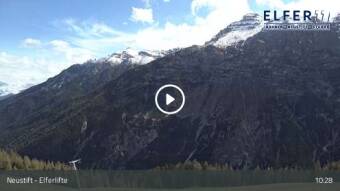 Neustift 23 hours ago
This Webcam is operated by:
feratel media technologies AG
-
Visit Source
Webcams nearby:
St. Pölten: A01, bei Anschlussstelle St. Pölten Süd, Blickrichtung Salzburg - Km 56,50
, 13.4 miles away.
Surroundings Map: